Description
Mobeye CombiGuard CM4600 Boat Alarm or "ShipGuard"
The Mobeye CombiGuard CM4600 (also known as the Mobeye ShipGuard boat alarm) is an all-in-one monitoring and alarm system. The multi-sensor device monitors multiple values and safeguards you against environmental hazards. The Mobeye CM4600 integrates a variety of sensors and signals. A reliable tool for monitoring risks and limiting damage. Notifications are sent to the user if there are any issues with the temperature, water level, battery voltage, potential-free sensors, or power supply. The device is powered entirely by batteries or by an external source. The communication module is capable of connecting to both the 4G LTE-M and the 2G networks.
The Mobeye CombiGuard alerts you in the event of a power outage, a leak, a temperature deviation, or a low battery voltage. When a status changes, the Mobeye CombiGuard sends an alert via app (iOS/Android), phone call (voice message), text message, and/or email. Different contacts can be set up, with a variety of alarm notification options.
The Mobeye CombiGuard can run for over a year on a single set of batteries. When the battery voltage falls below a certain threshold, a message is sent. When powered by an external source (12-24V DC or mains), it also sends "power failure" messages; this is often the first indication that something is wrong and action is required.
Key Features
An online portal and app makes set-up easy and gives the user insight into the status of the various sensors and connections.
temperature sensor
water leak sensor
2x input for battery voltage or potential-free contacts
(shore) power supply, or 12-24V DC
open collector output
Mobeye Boat Alarm
The Mobeye CombiGuard is a complete boat monitoring system. The CombiGuard notifies you with an alarm if:
lower voltage limits of the battery is exceeded (two batteries can be monitored, each with its own limit);
(bilge) water is detected (bilge alarm);
upper and/or lower temperature limits are exceeded;
(shore) power fails.
How it Works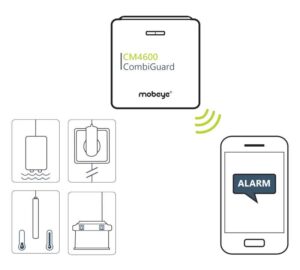 The Mobeye CombiGuard CM4600 monitors your property remotely. As soon as the status changes, the alarm dialer immediately sends a notification. That way you have full control.
Attach one or more of the included sensors, adapter and/or connect a battery to monitor voltage. Set a battery and temperature limit.
The CombiGuard detects any deviation on the sensors and inputs. When connected to external power, it also registers power failure.
In the event of a deviation, the CombiGuard sends an alert message to the contact persons via the app (iOS/Android), phone call, SMS, and/or email.
Typical Applications for the Mobeye CombiGuard CM4600
Typical applications for the Mobeye CombiGuard CM4600 include:
Boat
ICT server room
Storage location
The Mobeye CombiGuard CM4600 can also be used in many other application areas where monitoring of temperature, water and energy supply is important. External devices can be controlled using the output. For example, the CombiGuard allows you to use your telephone and the remote control of the AC (air conditioner) and other electrical appliances. Imagine that you are driving to your property, you already switch on the refrigerator, heating or air conditioning by simply calling the CombiGuard. Once you have arrived you will be warmly welcomed!
An additional input can be used for a sensor or fault signal, for instance if your water pump is activated.
---
Need a bilge water level alarm? The Mobeye WaterGuard-FS CM4300FS notifies you when the bilge water is detected at a specified level.
---