Description
Mobeye Smoke Detector CM4400
The Mobeye 2G/4G fire detector series consists of reliable smoke and heat detectors with alarm notification to contact persons. The Mobeye Smoke Detector CM4400 is a combination of the Ei650C (from Ei Electronics) and the Mobeye CM4410. The CM4410 is designed in consultation and with the approval of Ei Electronics, based on the original Ei Electronics drawings.
The combination of the Ei Electronics Ei650C smoke detector and the Mobeye communication module provides extremely effective fire detection. In the event of a fire, a warning is sent via the app (iOS/Android), phone call, SMS, and/or email, in addition to the siren on site. There is no need for cables or a local phone line. The set is entirely battery powered. This simplifies installation. The built-in communication module supports 4G LTE-M and 2G networks.
The Ei Electronics Ei650C smoke detector has a 10-year battery. The Mobeye communication module works for more than a year on batteries. A message is sent when the battery voltage is low.
Stand-alone fire detector, or several detectors in a network
The Mobeye Smoke Detector CM4400 is designed for situations where one smoke detector (with telephone reporting) is sufficient.
Ei Electronics offers battery-powered detectors with wireless connections, such as the Ei650RF, for situations requiring multiple smoke, heat, and CO detectors. The Ei Electronics network can include a wireless relay module Ei413RF, to which you connect the Mobeye CM4100 alarm dialler. When one of the network's detectors detects fire or CO, all sirens sound and the communication module sends notifications.
More combinations, such as mains powered detectors, can be found on the infosheet.
If smoke detectors are not suitable, heat detectors are an alternative.
How it Works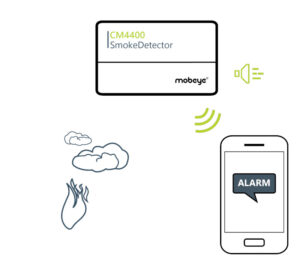 The Mobeye CM4400 warns people on site in the event of a fire, but also contacts elsewhere. It makes the difference in helping the vulnerable and in case of fire in vacant buildings.
Activate the detector in a few steps and set up the contacts.
Mount the smoke detector to the ceiling in a clean and dry area.
In the event of a fire alarm, the siren warns you with a loud signal on site. In addition, the contacts receive a notification by app (iOS/Android), telephone call (voice message), text message and/or email. For the push messages there is a choice between an escalation plan or group message. With the escalation plan, the recipient can confirm the push message, so that the other contacts no longer receive the message. If none of the recipients confirms the push message, a phone call is made. The number of contacts is unlimited. The Mobeye CM4400 can report fire and send test reports to a private control room (ARC) for professional follow-up.
Typical Applications for Mobeye 4G Smoke Detector
The Mobeye CM4400 is a smoke detector with an extra warning function. Typical applications for this battery-operated fire alarm are places where traditional smoke detectors do not suffice and where – in addition to a local siren – a notification by telephone is advised, such as:
void property
care situations, e.g. nursing home, assisted living, extra care housing, retirement home and homes with elderly people, youth care institution
shacks, cabins, lodges
storage locations
server rooms
holiday homes
boats
mobile homes
temporary situations