Description
Mobeye Heat Detector CM4400H
The Mobeye 4G/2G fire detector series consists of reliable smoke and heat detectors with alarm notification to contact persons.  The Mobeye CM4400H is a combination of the Ei603TYC (from Ei Electronics) and a Mobeye communication module. The combination of Ei Electronics heat detectors and the Mobeye communication module makes fire detection extremely effective. In the event of a fire detection, in addition to the siren on the spot, a warning will be sent via the app (iOS/Android), telephone call, SMS and/or email. No cables and local telephone line are required. The set is fully battery powered. This makes installation easy. The built-in communication module can connect to the 4G LTE-M and 2G network.
The Ei Electronics heat detector Ei603TYC has a 10-year battery. The Mobeye communication module works for more than a year on batteries. A message is sent when the battery voltage is low. The Mobeye SIM card and Internet Portal provide full functionality and optimal security.
Stand-alone fire detector
The Mobeye CM4400H is suitable for situations where one heat detector is sufficient. With several interconnected heat detectors, only one CM4400HRF needs to be included in the network. The CM4400HRF contains an RF module to connect wireless to other Ei Electronics detectors.
How it works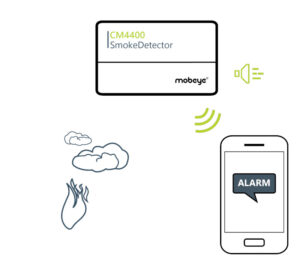 The Mobeye CM4400H warns people on the spot in the event of a fire, as well as contacts elsewhere. It makes the difference in helping the vulnerable and in the event of fire in vacant buildings.
Activate the detector in a few steps and set up the contacts.
Mount the heat detector to the ceiling in a clean and dry area.
In the event of a fire, the siren sounds and the set contacts are informed by telephone.
Typical Applications for Mobeye Heat Detector
Heat detectors are preferred over smoke detectors in kitchens, garages and other places where a smoke detector is less suitable because of too much dust, smoke or vapour. Further examples of applications are
buildings
sheds and storage locations
server rooms
holiday homes
boats
campers
etc.