Description
Mobeye Panic Button CM4500
The Mobeye Panic Alarm is a fixed panic alarm / emergency button. The alarm can be used to request emergency assistance from e.g. co-workers, security or emergency personnel, family members, nurse or ARC. Typical applications are personal protection for lone workers, vulnerable people at home or offering safety to (shop) staff.
After pressing the button, the Mobeye Panic Alarm CM4500 notifies contact persons. The panic alarm button does not require any wiring and can operate for an extended period of time on batteries. Compact and reliable. The box can be placed in close proximity to a person, such as under a desk, beside a bed, or near a machine. The integrated communication module can connect to both the 4G LTE-M and 2G networks.
Mobeye Panic button for extra security
In the event of an alarm, the Mobeye Panic Button sends alarm notifications by app (IOS/Android), telephone call (voice message), text message and/or e-mail. The contacts can be set, with multiple options for the alarm notification. Reporting to a control room (ARC, Emergency Centre) is also possible.
The Mobeye Panic Alarm can work for over a year on a set of batteries. The response time is around 25-30 seconds. This period can be shortened by using an external power source (12-24V DC or mains voltage).
Where to place your Panic Alarm Button
The installation is done in a few easy steps. The unit can be placed as a freestanding unit or mounted to a surface (e.g. screwed to the bottom of a desk or hung on a wall) via the mounting holes.
personal panic alarm
A common place in the house is in the bedroom, right next to the bed. An ideal place for the panic button is on a bedside table or the wall next to the bed.
workplace panic button
The design takes into account that desktop panic buttons should be kept out of sight. The button is located on the back of the housing, ideal for use under a desk. If a larger single-touch button is required, an external button can be connected.
How it works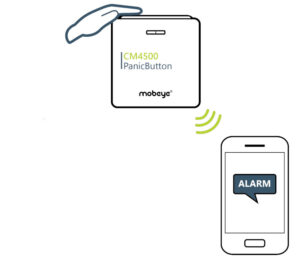 The Mobeye CM4500 warns contacts after pressing the button. The panic alarm sends a notification to predefined contacts. This provides extra security in vulnerable situations.
The settings and contacts are prepared in a few steps. Place the box near the user.
 After pressing the button, the communication module first searches for a network connection. This can take about 20 seconds. To speed up the notification, connect the unit to an external power source, using an AC adapter. In this situation, the detector already has a network connection and sends the message immediately after pressing.
The contacts are informed with a predefined alarm text. When using the Mobeye SIM/Internet portal and app, an escalation plan including alarm confirmation can be set (where a "confirmation" prevents the app message from being forwarded to a next contact).
Typical Applications for the Panic Button
The Mobeye Panic Button is a simple and effective auto dial panic alarm. The electronic device is designed to assist in alerting a person in emergency situations where there is a danger to persons or property. Typical applications are situations where people feel insecure or need care and other situations where it is important to take immediate action. Some examples where you can place the alarm button are:
In the bedroom as emergency button for bedridden or elderly people
as reassurance for those living alone and their family
as workplace panic button
as desk panic button, e.g. at the reception
at security checkpoints
lone worker alarm
Underneath the store counter of:
liquor stores
convenience stores
pharmacies
24-hour stores
gas stations
cell phone stores
pub