Description
Mobeye ThermoGuard TwinLog CML4275
The Mobeye ThermoGuard CML4275 is a reliable temperature monitor housed in a sturdy industrial enclosure. It notifies contacts in the event of temperatures being too high or too low. It records temperature data and transmits it to an online portal, where the temperature log can be visualised in both graph and table formats. The integrated communication module can connect to both 4G LTE-M and 2G networks.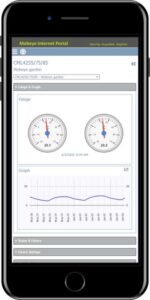 The Mobeye ThermoGuard TwinLog CML4275 is a highly accurate temperature monitor designed for use in outdoor and industrial settings. When the temperature deviates from the set limit values, an alarm message is generated. Furthermore, it logs temperature values at a user-specified interval and displays them in the online portal. The Mobeye CML4275 includes a reliable temperature sensor as well as the option for a second one. The device can operate completely on batteries or with external power.
If the temperature or one of the inputs indicates an alarm status, the Mobeye CML4275 sends an alert via the app (iOS/Android), telephone call (voice message), text message and/or email. The contact persons can be specified, and the alarm message can be customised.
Temperature Data Logger
When using the Mobeye Internet Portal, you can access the log functionality. The logged temperature values are sent to the portal on a regular basis and after an alarm, where they are displayed in table and graph form.
The Mobeye ThermoGuard TwinLog CML4275 can run for over a year on a single set of batteries. It also sends "power failure" notifications when using an external power source (12-24V DC or mains).
Key Features
Alarm notifications via app, telephone call, SMS and email
Temperature alarming and logging
Wireless, battery-operated
Power failure monitoring (if powered externally)
Two NO/NC alarm inputs, output, piezo siren
IP66 rated enclosure
Full insight into device when connected to Mobeye Internet Portal
Logging, Alarming and Reporting for the Industry
The Mobeye ThermoGuard TwinLog CML4275 is a solid and compact unit for monitoring temperatures, in industrial, pharmaceutical, retail, and other professional environments.
The Mobeye ThermoGuard TwinLog can operate on batteries for a long time and is therefore independent of an external power source. If an external power source is available, it is recommended to connect it as the power supply will also be monitored. It also sends alarms for power failures. In the event of a fault, a message is sent. The batteries take over and the CML4275 continues to monitor and send alarm messages. A notification will be sent once power is restored.
Note: The delivery includes batteries but excludes a mains adapter. A suitable external power supply option is the country-specific Mobeye 500mA 12VDC adapter, which is available with EU, UK, and USA power socket configurations.
Night Frost Detector
In collaboration with horticulturists, we have integrated new features to operate as a night frost detector. During the chilly spring, when buds are just starting to emerge, growers receive precise temperature data for their fields. This data includes a critical zone and an alarm zone, thereby enhancing the importance of alarm notifications and ensuring timely updates to the graphs.
Smart Data Transfer Option of the CML4275
Throughout the flowering season, this detector, equipped with the Smart Data Transfer option, offers valuable insights into temperature values. When the external air enters the critical temperature zone, the logging and synchronisation frequencies are automatically increased. Once the warning limit is reached, an immediate telephone alert is activated, and the map is regularly updated. Additionally, an hour counter provides insights into both warm and cold hours.
Hour Meter with Cumulative Heat Hours
As an additional feature, the CML4275 includes an hour meter. This meter calculates the cumulative number of hours above or below a specified temperature value. You can configure both the time period and temperature limit within the Mobeye Internet Portal. A diagram will subsequently illustrate the cumulative progression of hours and the total number of hours during which the temperature exceeded (or fell below) the set limit.
How it Works
The Mobeye ThermoGuard TwinLog CML4275 continuously measures the temperature values and logs these periodically. In this way you are fully informed about alarm situations and the complete temperature trend.
Place the sensor at a location with a stable temperature, in the shadow, or not too close to the cooling element or heat source.
Set the temperature limits and log frequency and choose contacts for the notifications.
If it gets too cold or too hot, the CML4275 sends alarm messages to the contacts. The logged values and trend can be viewed online in table and graph form.
Typical Applications for the Mobeye ThermoGuard TwinLog CML4275
The immediate alarm, scheduled logging, remote monitoring, and industrial IP66 enclosure render the CML4275 ideal for professional applications, including agriculture (heat alarms, heat hour tracking, and protection against night frost), as well as controlled storage.
Examples are:
medicine storage
laboratory temperature monitoring
food storage
ingredients storage
distilleries
ICT server room
stores, e.g. grocery, convenience, drug store
agriculture
animal shelters
industrial processes
FAQs
What is a Temperature Log?
A temperature log is a document in which information about temperatures is recorded. Typically, the log consists of temperature readings taken at regular intervals over a specified period of time.
What is a Temperature Data Logger?
A temperature data logger, also known as a temperature monitor, is a portable measurement instrument capable of autonomously recording temperature over a defined time period. The digital data can be retrieved, viewed, and evaluated once it has been recorded.