Description
Mobeye 4G/2G Heat Detector with RF module (CM4400H-RF)
The Mobeye 4G/2G fire detector series includes reliable smoke and heat detectors, providing alarm notifications to designated contacts. The Mobeye Heat Detector CM4400H-RF integrates a 4G/2G communication module with an Ei Electronics heat detector and RF module. It is specifically designed for use within networks containing Ei detectors. The synergy between the Ei Electronics heat detector w/ RF module and the Mobeye communication module significantly enhances fire detection efficacy.
In the event of a fire detection, in addition to the on-site siren, warnings are transmitted through the iOS/Android app, telephone calls, SMS, and/or email. The set operates entirely on battery power, eliminating the need for local cables or telephone lines, facilitating easy installation. The integrated Mobeye communication module is capable of connecting to both 4G LTE-M and 2G networks. This ensures a comprehensive and efficient fire detection system with versatile notification options.
The Ei Electronics heat detector is equipped with a 10-year battery. The Mobeye communication module works for more than a year on batteries. A message is sent when the battery voltage is low.
Stand-alone fire detectors, or several detectors in a network
When using multiple interconnected heat detectors, it is only necessary to include one Mobeye CM4400H-RF within the network. The CM4400H-RF is equipped with an RF module, enabling wireless connectivity to other Ei Electronics detectors. Upon detection of a fire by any of the interconnected detectors, all sirens will activate, and the 4G communication module will promptly dispatch a notification. This streamlined integration ensures a synchronised and efficient response across the network in the event of a fire.
When smoke detectors are not suitable, heat detectors provide a viable alternative.
How it Works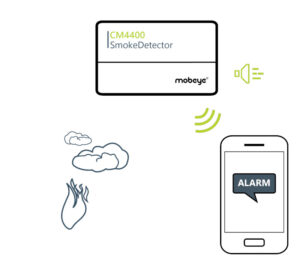 The Mobeye CM4400H heat detector operates as an on-site warning system in the event of a fire, simultaneously alerting designated contacts. This crucial functionality plays a pivotal role in enhancing the safety of individuals in vulnerable situations and safeguarding vacant buildings.
Activate the detectors in a few steps and configure contacts.
Securely install the heat detectors on the ceiling in a clean and dry area.
In the event of a fire, the siren will sound, and the pre-configured contacts will receive immediate alerts via telephone.
This swift response mechanism ensures that relevant parties are promptly informed, contributing to a rapid and effective response to the fire event.